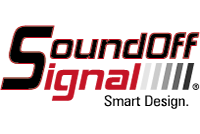 SoundOff Signal originated in 1992 as a manufacturer of high-quality safety solutions. Company founder George Boerigter, who serves as Chairman of the Board, transformed a small startup company into an organization that now supplies high technology safety solutions across the globe.
We integrate Smart Design, a term used to illustrate our problem-solving approach to product development, when we bring new products to market. Smart Design is an iterative problem-solving process of discovery, ideation, and experimentation. This design philosophy was evident when we introduced our first product. At the time, research indicated that motorcyclists were inadvertently leaving their turn signals on after completing a turn, resulting in motorist confusion and leading to serious accidents. SoundOff designed a device that activated a beeping sound once the turn signal was activated, reminding the cyclist to turn the signal off once a turn was complete.
Our next innovation was to bring modulation to headlights via a heavy-duty flasher that provides attention-grabbing conspicuity to notify motorists of an oncoming emergency vehicle. Affectionately known as the "wig wag," this technology has since been embraced and universally adopted by all segments of the emergency vehicle market.
We also introduced the GHOST light, an extremely bright, yet compact, versatile product, which resulted in SoundOff's industry leadership and global market reach. This innovation was soon followed by the introduction of the Intersector Under-Mirror Light, designed to provide a unique, 180-degree vehicle profile illumination to signal approaching off-angle traffic.
Our most recent introduction is the nForce collection of products. nForce is the first full-line, tri-color family of lighting products on the market…designed to integrate aesthetically and functionally with today's evolved police vehicle designs. We created a theme that would integrate with the next generation of vehicles through dynamic angles, crisp edges and sleek silhouettes to minimize size.
Our Smart Design approach is not applied solely to the emergency vehicle market. In 2002, we introduced the first LED warning lights for American school buses, offering improved activation time over traditional incandescent lighting to reduce stopping distance for trailing motorists. Today, SoundOff Signal is the primary provider of OEM school bus warning lights to help improve the safety of our children.
---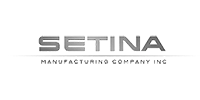 Setina Manufacturing Company is committed to providing value added services to our customers by creating a successful partnership with them through our uncompromising adherence to the highest standards. Our pledge is to establish lasting relationships with our customers by exceeding their expectations and gaining their trust through exceptional performance by every member of our team.
Setina Manufacturing Company has become one of the most Respected Names in the law enforcement industry, through our dedication to the highest standards in design and performance. For nearly 50 years our uncompromising adherence to Excellence in Engineering has set the foundations for our leading designs. In a competitive world we are proud to set the standards.
Setina Manufacturing Company uses the latest in computer assisted design technology in our product development and in our manufacturing process. Setina Manufacturing Company's network infrastructure rivals those of larger companies. Our high speed, gigabit and fiber optic network infrastructure allows our employees to work effectively and efficiently.
Setina Manufacturing Company is a modern, state of the art, advanced method of performance manufacturing facility. We perform nearly all of the manufacturing processes at our facility, from receiving the raw materials, to the finished product. This allows us to maintain complete control over our quality, materials and labor. We are proud that all our products are made in the USA.
Setina Manufacturing Company has a state of the art metal preparation and powder coating system, and utilizes high tech computerized CNC machinery, to aid in the speed and efficiency of our production process.
---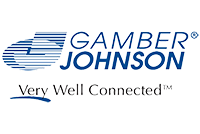 In business since 1954, Gamber-Johnson has been a staple when it comes to housing your electronic components. We started out making hi-fi wooden radio consoles and then in 1980, Gamber-Johnson started designing and manufacturing mounting hardware to hold electronic devices inside of a vehicle environment, safely and securely. In the beginning, our focus was on radios, and our primary customers were law enforcement. Today, Gamber-Johnson makes the highest quality vehicle laptop mounts on the market. Our mission is clear; we exist to provide superior value to our customers by building new and innovative products. Our highest goal is to gain our customers' trust by consistently surpassing expectations.1
Computer technology is always changing; new devices and new standards for power and data connectivity are constantly being introduced. From basic brackets for radios to a tablet or laptop car mount installed into the vehicle, we can deliver whatever our customers need from us.
---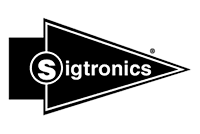 Sigtronics is the industry standard of excellence in high noise environment communication equipment.
We are proud to celebrate over 40 years of service in manufacturing products for Aviation, Emergency, and Tactical communication. From our facility in San Dimas, California, we design and build our innovative, high quality American made headsets, intercoms, and accessories.
On our web site you will find information about all of our headsets, intercoms, adapters, and accessories. Detailed operating, installation, and modification instructions for all Sigtronics products are available for immediate download. For the times when this is not enough, the industry's best customer support is only a phone call away.
As we begin our fifth decade in business, we would like to thank all of our customers, and we look forward to many more years of service.
---

It can be said that TruckVault was created accidentally. In the 1980s Al Chandler owned and operated a construction company in Seattle, Washington. One of his employees drove a van equipped with a home-made drawer system not unlike today's TruckVault. When Al saw this he decided to build one for his own truck but, rather than hauling tools, he built it to haul his big boy toys – guns, fishing and more. When his friends saw this drawer system they asked to have one for their trucks, too. The process was infectious and, within a years time, TruckVault was born. The first official TruckVault was manufactured in June of 1995 and the requests have poured in ever since.
It was originally assumed that TruckVault would manufacture more products for pickups than for any other vehicle. In the fall of 1995 however, TruckVault was displayed for the first time at a tradeshow – the NRA convention in Phoenix. Show-goers immediately recognized the potential for TruckVault's products. To TruckVault's surprise, the majority of attendees requested models built not for pickup trucks, but for their SUVs. This show was the catalyst for their present line of vehicle specific SUV organizers and multi-drawer command centers.
As more and more TruckVault products were ordered over the next two years, police, fire and law enforcement agencies discovered TruckVault. Recognizing the significance of this market, TruckVault began, in a small way, to advertise in public safety publications and exhibited for the first time at the International Association of Chiefs of Police (IACP) in Orlando in 1997. Since that time, public safety and law enforcement sales have continued to climb and have been a key to TruckVault's success.
---

Blue Sea Systems designs and manufactures AC and DC electrical products engineered to withstand the demanding applications in Marine and Specialized Vehicle electrical systems. Products are shipped from the company's Bellingham, Washington manufacturing facility to distributors and original equipment manufacturers worldwide.
---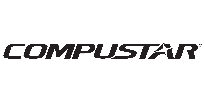 Compustar Auto Security is the number 1 brand of vehicle security and auto start products. For years Compustar has lead the industry in quality, reliability, and continued upgrades in the automotive aftermarket.
---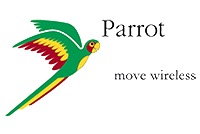 Founded in 1994 by Henri Seydoux, Parrot creates, develops and markets advanced consumer technology products for Smartphones and tablets.
Parrot also offers the most extensive range of hands-free communication systems on the market for cars. Its globally recognised expertise in the fields of mobile connectivity and multimedia around Smartphones has positioned Parrot as a key player of in-car infotainment.
---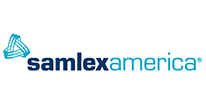 Samlex America, Inc was incorporated in 1991
Manufactures and distributes power conversion products to customers around the globe
Synonymous with providing quality products at competitive prices & supported by the best customer service in the industry
OEM, custom design & private label services offered as well as specialized component manufacturing factories & assembly facilities located in Europe, Asia and North America
Major markets of communications, electronics & alternative energy supported by extensive distributor network
---

Antenna Plus has been developing innovative antenna solutions since 1991. We have carved out the top quality spot for mobile solutions in the government, public safety, field service, AVL and road warrior markets. We have also developed superior performing antennas for telemetry and the new communicating kiosk/vending market.
Today, we produce antennas for cellular, PCS, GPS, WiFi, and most private radio frequencies – and can combine many of these together into one unit to make for a simple and easy-to-install solution. As an option, we embed the Trimble GPS receivers into the antennas to offer a full, two-way GPS experience for customers involved with AVL and Mapping solutions. For customers needing superior WiFi performance, we offer a WiFi Modem & Antenna that will extend the reach of your WiFi network to the vehicle with maximum speeds.
Overcoming the Challenge of Shielding
People who must use their laptop and wireless data modem in the car experience a reduction in performance. The metal and glass from the vehicle shields the modem from getting back to the cell site. This can impair the signal strength by as much as 20% or 10 dBi. By using our antennas, we get the signal out of the vehicle, elevate it on the roof, and then apply a 3 dB gain in our patented design to give you the greatest reach to the communication network. This increases the geographical area where you can still work and also results in faster data throughput speeds as your quality of connection to the wireless network is better.
Making the Best Antennas
Antenna Plus has worked very hard to be the top quality antenna manufacturer. We were the first company to design and patent low profile antennas that are now seen on most police and field service vehicles. The benefit of this form factor is a very long product life. Our antennas survive car washes, being swept by tree branches, and all environmental conditions. Each of our communicating frequency antennas has an omnidirectional 3 dBi gain – we believe this is the best for mobile solutions. Antenna Plus builds all of our products at our factory in the USA under the close scrutiny of our cofounder. This attention to detail ensures that each antenna that ships meets our stringent quality standards.
---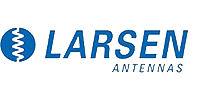 Pulse Electronics is the electronic components partner that helps customers build the next great product by providing the needed technical solutions. Pulse has a long operating history of innovation in magnetics, antennas and connectors, as well as the ability to ramp quickly into high-quality, high-volume production. The Company serves the wireless and wireline communications, power management, military/aerospace and automotive industries. Previously, the holding and operating companies were known as Technitrol, Inc. and Pulse Engineering, respectively. Pulse is a participating member of IEEE, ATIS, ETSI, HDMI, the DSL Forum, CommNexus, and MoCA.
---

Tuffy products are manufactured by American employees at Tuffy's state-of-the-art plant located in Cortez Colorado. This gives Tuffy the ability to closely monitor the production process ensuring the customer always gets the best product on the market. This strict adherence to the highest quality standards enables Tuffy to back their products with an outstanding warranty which is unsurpassed in the industry.
Tuffy's product designs are engineered and extensively field tested at Tuffy's facility by skilled developers with years of experience. Unlike other "knock off" manufacturers who skip the design step by stealing ideas from other companies then cheapening the product and having it manufactured overseas to maximize their profit.